Below Photo: Over 2k players in two days. Recent Trade Show.
If you attend a Trade Show or business expo, watch which table has the most people standing in front of it – it's usually the one with a spinning wheel for a chance to win a plastic mug, even though the guy right next to it is giving similar items away just by asking for one! Trade Show Marketing Games are the answer. People love the thrill of winning and something fun to do…it's a psychological fact.
There are lots of options and ways to do great games at shows. It is best to call.
New for 2018!  Pre-game Survey's with "Predictive Prizing." Call the Developer, David Harkins toll-free at 877-530-4499.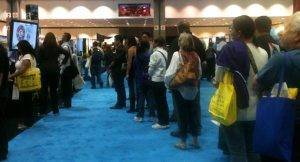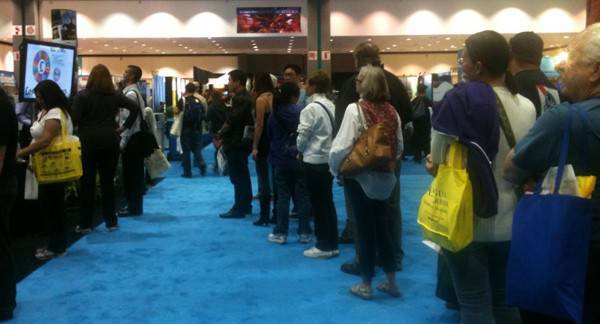 We recommend that you have a large screen monitor above head level. We also suggest you have multiple computers should your line get too long.
A few recent unedited, unsolicited emails to us about our Trade Show Marketing Games: 
I just wanted to let you know that the game was a big hit at our conference this weekend! It worked seamlessly and my team (and the game players!) were very impressed.
Thank you so much! The games turned out great, and we really appreciate how responsive and helpful you've been throughout this process.
Everyone loved the game! It was the highlight of the booth. We had a line of people waiting to play the game. Thanks so much for all of your help!!
It was so great! Everyone loved it 🙂 Having it on a touch-screen was also AMAZING!
Trade Show Marketing with an Interactive Virtual Game.
Try the below Demos!   How they work.  They are compatible with any device and any screen resolution.  We can also custom modify them for various situations or layouts.
When using a computer use the F11 key to remove the web browser.
When using a tablet, send the link to the tablet and Add to Home Screen. This will place an icon on the tablet. When you open from the icon the tablet it will be full screen.
Since people love Trade Show giveaways and other freebies, "interactive virtual game marketing" software is indeed the best solution. Many businesses offer fun branded games in order to attract more customers to visit their event. With the help of games that offer instant wins, more and more customers are enjoying interactive games.
Using Trade Show Games you can even collect names, email addresses and other personal details from your prospects so that you can efficiently increase your sales and achieve your business goals in a more efficient and convenient manner. Truth is, lead generation needs capturing personal information of your potential clients especially the email address in order to update your contact list and send emails conveniently.
With creative and fun event games. Through Trade Show brand engagement as well as awareness experiences, customers have a personal connection to your brand.
Interactive Trade Show game programs can be used by all e-commerce stores on the web through coupon codes. Help your brand get an upbeat customer experience and let people notice your promotional products and services. In fact, there is no better way to promote your brand right now but to offer these brand gaming platforms online to increase your customer base and sales marketing efforts.
When it comes to Trade Show Games  client surveys, you can add incentive elements to quickly entice the attention of your visitors. Whether your business is direct mailing, financial company, hair and beauty salon, travel agency, retail, or any type and size of business, interactive gaming is the way to go. No matter what your corporate goals are, this is the ultimate way to improve your sales and increase your customers online.
In order for us to help you better understand Trade Show Games as a digital marketing solution call us any time at 877-530-4499
Available Instant Win Trade Show Games
Prize Wheel, Scratch Off, Virtual Golf, Slot Machine, Match Three, Virtual Plinko, Choose One, Bingo