TRADE SHOW & BOOTH GAMES CREATE EXCITEMENT
What are the benefits of using digital games at trade shows?
There are several benefits to using digital games at Trade Show Exhibitions:
Increased engagement: Games are a fun and interactive way to engage with trade show attendees and keep them at your booth for longer. This can lead to more opportunities for face-to-face conversations and the gathering of valuable leads.

Brand awareness: Digital trade show games are the best and can be designed to showcase your brand and products, helping to increase brand awareness and recall among attendees.

Increased traffic: Event games can be a powerful draw for attendees, attracting more people to your exhibitions booth and helping to drive traffic to your display.

Data collection: The best Virtual Games can be designed to collect valuable information from attendees, such as their contact information, preferences, and buying habits.

Cost-effectiveness: Compared to traditional trade show marketing materials, digital games can be cost-effective, as they can be easily reused and repurposed for future events.
Overall, using virtual or digital trade show games can be an effective way to engage with attendees, increase brand awareness, and collect valuable data, making them a valuable addition to your trade show marketing strategy.
Trade Show Games that will attract attention!
Branded Trade Show Games for, Engagement, Lead Generation, Brand Awareness Marketing.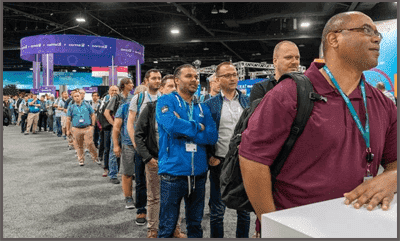 Are you ready to make 2023 the best year you re-conquer the Trade Show scene? Whether you're already a seasoned expert or just starting out we have new and exciting games to engage, motivate, acquire leads, increase sales, awareness and much more. Create a touchpoint experience they will remember. Interactive Trade Show Games at your booth are the answer. Fun trade show booth games do the job.
Take Your Trade Show & Event Experience to the Next Level with Engaging and Customizable Games! Boost Audience Participation with our Trade Show Fair Games. Add a touch of fun to your next exhibition event and increase audience engagement with Instant Win Games or our Memory Matching Games.
People love the thrill of a game and it is fun to do! …it's a psychological fact. Fully Controlled Online Prize Pool or Offline options. Call for details 877-530-4499
Bring your brand to life with Trade Show games for exhibitions and events. We have just what you'll need.
Trade Show Game Ideas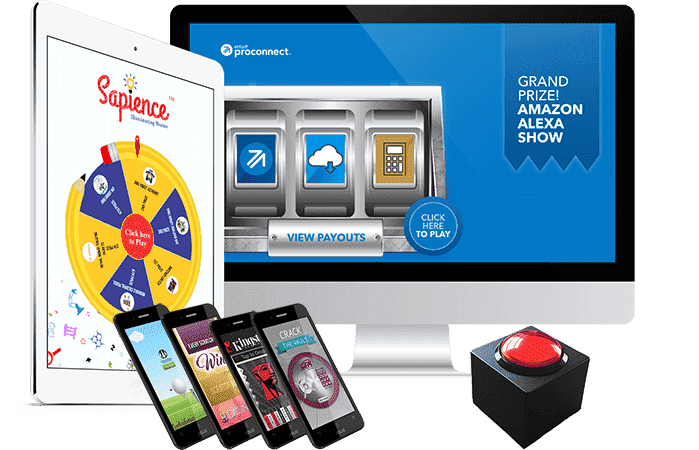 We've been doing Trade Show Games the better part of the last 15 years. Below are the primary ways companies use our Games.
Big Screen Trade Show Games is by far the most popular. If you can scan badges for lead generation a Big Button makes that game much more fun for people.
Tablet Stand using iPads. We do many of these. A game can be designed to fit any size screen resolution.
QR Code Games We have seen some QR Code Games do well and others not so much. QR's appeal to a younger demographic. We have the most experience and will alert you if we see potential issues with your campaign.
If you'd like to see more or even design a game before purchasing give us a call to chat about it. Let's jump on a Zoom Screen-Share meeting.
Also, below are Demos of every game we offer.
Game Features
You set the odds with the inventory for each prize level.
Optional collection of contact data
Fully Branded to your Business
All Device Compatibility
Anti-Fraud mechanics
Primarily Self Managed
SSL Secured Data
Zapier Automations
Developer Phone Support
Game Options
Send a branded email to all players
Full-Screen Monitor or Tablet Display
Zapier Data Integrations
Player Restriction Rules
Up to Six Prize Levels
Redirect by Prize Level
Optional Schedule by Day
Use Variable Data
Limited Offline Usage Available
Game Add-Ons
Add a BIG PUSH BUTTON
Unique Play Code to Play
Display Unique Bar Code or Bar Code Numbers in Email
Display Coupon Codes On-Screen
SMS to Screen
Kiosk with Printing
Convert email to SMS*
SMS Autoreply to Play
Custom Game Development
Call now! 1-877-530-4499 for a fast quote and more detailed information.
Why Brand Gaming? We make this easy to do!
We will work directly with you to execute your promotion or application to be certain you are leveraging the full value of our systems. Secondly, we know that one size does not fit all and you don't have the time to master every aspect of our technology. Most importantly Brand Gaming will work with you to build out your promotion. The execution does require good communication.
Benefits of using Trade Show Games
Increased engagement: The best Games at trade shows can help increase attendee engagement and interaction with a brand or product.

Boost brand recognition: Trade show exhibitions games can be a unique way to promote a brand, making it memorable and standing out among other exhibitors.

Lead generation: Games can collect attendees' contact information, providing valuable leads for follow-up after the event.

Better data collection: Games can provide valuable data and insights on attendees, such as their preferences, behaviors, and demographics.

Product awareness: Games can be designed to highlight a product or service, offering attendees a hands-on experience.

Increased foot traffic: Trade show games can attract and retain attendees, bringing in more foot traffic to an exhibit.

Better ROI: By effectively engaging attendees and collecting valuable data, trade show games can result in a better return on investment.
Instant Win Trade Show Game Demos
Try the below Demos! How they work: Our Games are compatible with any device and any screen resolution. We can also custom modify them for any unusual screen resolutions.
When using a computer use the f11 key to remove the web browser.
When using a tablet, send the game link to the tablet and Add to Home Screen. This will place an icon the tablet. When you open the tablet it will be full screen
There are lots of options and innovative strategies to do effective digital Trade Show Booth games at shows for lead generation or pure engagement. It is best to call and chat about it. We also layout the game depending on the screen size.
New: Memory Match Games. They are quite addictive and fun to play. One version even has a Leader Board Play with it here
New: SMS to Screen! Players send a text message to the game on a monitor. Their name will appear and activate the game.
New: Pre-game Survey's with scoring for "Predictive Prizing." The quality of the lead ensures the outcome of the game. Call the Developer, David Harkins toll-free at 877-530-4499.
New: Large Push Button activation games. A mix of physical and digital make the games more exciting!
We recommend that you have a large screen monitor above head level. We also suggest you have multiple computers should your line get too long.
Game Ideas for Trade Shows
Games Increase Engagement For Business Trade Shows
Designed with players in mind, they offer a captivating and playful experience that will no doubt keep anyone from not playing. People love the chance to play and they love to win. Adapting your brand to games at your trade show booth is the best way to weave your marketing message, influence sales and marketing interactions that appeal to basic human instincts.
Interactive trade show booth games can help to increase your brand awareness, improve your brand perception and strengthen your brand appeal. Help achieve your goals and strengthen your brand participation at trade fairs, shows and events. If you would like to learn more about how to use our interactive trade show games to generate more booth traffic and more qualified leads to increase exhibitions attendees "engagement with our event technology, you can contact us for questions or discuss your event with one of our digital strategists. We can help you generate enthusiasm, crowd engagement and leads.
Companies can help their events stand out by using sales techniques and games to attract visitors to their booth. Digital or Virtual games are valuable for dialogue with participants and can be a tool in your company's toolbox to increase sales across marketing channels.
A few recent unedited, unsolicited emails to us about our Interactive Trade Show Booth Marketing Games:
I just wanted to let you know that the game was a big hit at our conference this weekend! It worked seamlessly and my team (and the game players!) were very impressed.
Thank you so much! The games turned out great, and we really appreciate how responsive and helpful you've been throughout this process.
Everyone loved the game! It was the highlight of the Trade Show booth. We had a line of people waiting to play the game. Thanks so much for all of your help!!
It was so great! Everyone loved it :) Having it on a touch-screen was also AMAZING!
Trade Show Games for Marketing
Available Games: Prize Wheel, Scratch Off, Virtual Golf, Slot Machine, Memory Match, Plinko, Choose One, Bingo, Dice and the new Money Machine!
Trade Show Engagement Marketing Games
Since people love Trade Show giveaways and other freebies, trade show marketing games software is indeed the best solution. Many businesses offer fun branded games in order to attract more customers to visit their event. With the help of games that offer instant wins, more and more customers are enjoying interactive games.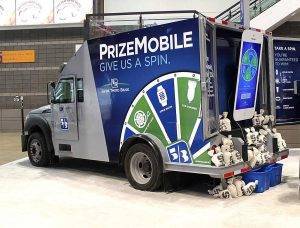 Using Trade Show Games you can even collect names, email addresses and other personal details from your prospects so that you can efficiently increase your sales and achieve your business goals in a more efficient and convenient manner. Truth is, lead generation needs capturing personal information of your potential clients especially the email address in order to update your contact list and send emails conveniently.
With creative and fun event games. Through Trade Show exhibition brand engagement as well as awareness experiences, customers have a personal connection to your brand.
The best Interactive Trade Show game programs can be used by all e-commerce stores on the web through coupon codes. Help your brand get an upbeat customer experience and let people notice your promotional products and services. In fact, there is no better way to promote your brand right now but to offer these brand gaming platforms online to increase your customer base and sales marketing efforts.
When it comes to Trade Show Games for exhibitions client surveys, you can add incentive elements to quickly entice the attention of your visitors. Whether your business is direct mailing, financial company, hair and beauty salon, travel agency, retail, or any type and size of business, interactive gaming is the way to go. No matter what your corporate goals are, this is the ultimate way to improve your sales and increase your customers online.
Take a couple of minutes and view this Portfolio Slideshow of some of our work or go directly to the gallery of past games.
In order for us to help you better understand Trade Show Booth Games as a digital marketing solution call us any time at 1-877-530-4499
Lead Generation at Trade Shows
Only 7% of exhibitors offered games to inform visitors about their products. This means that there is a gap of a whopping 60% between the interest of participants and the use of the games by exhibitors. As a bonding tactic used by participants, games helped educate them about products in a fun way and were used by 67% of participants. Booth activities worked best when the participants were active rather than passive participants. Collect as little or as much personal data for lead generation.
Your game will be more tempting if you have a number of people waiting to play it. Your booth staff can talk to the people in the queue and ask them qualifying questions before they get the chance to spin the prize wheel, play Plinko or perhaps a digital slot machine.
Having one or two games at the ready is a big step. You will go beyond that and be able to see the full significance of games when it comes to attracting customers to your stand. Instead of assuming the role of encouraging people to take part in the games, you take on the role of brand ambassador and introduce the players.
Trade Show Games at events are the most common reason people play games at trade shows. These fun measurement activities can increase engagement as you make your pitch. You can also leave links to promotional products that will remain after the end of the Congress.
One way to engage your audience in an event is through instant win or perhaps a branded memory match game with leaderboard. Instead of asking attendees to take selfies at your booth, you can set up your own selfie area and post selfies with specific hashtags on your social media to win prizes.
Exhibition games are a great way to increase interest and attract visitors to your booth. You give potential customers the opportunity to interact with your brand, increase engagement, and help you collect valuable data for marketing purposes. There are numerous types of games that exhibitors can use to engage participants. Not all are suitable for your target group, so choose wisely what your visitors will like. We are happy to advise you.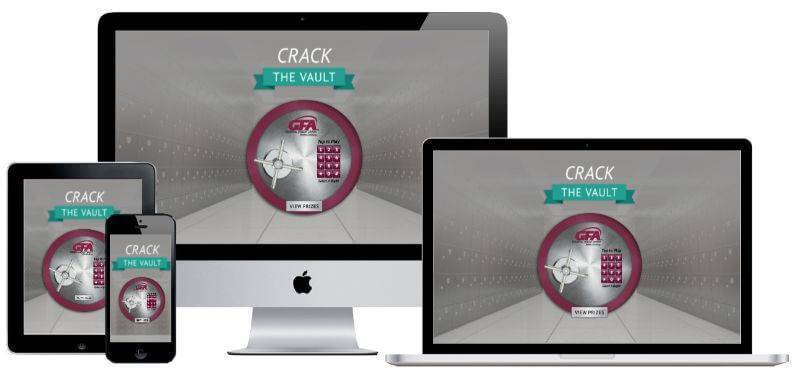 For example, trade show game ideas such Golf or Roll the Dice at an event and business. Games can also be used by virtual organizers (and exhibitors (virtual booths). People who access virtual events do so from home or in the office. Games are not only fun, they can also help to raise brand awareness and send important messages about your business.
Events are the perfect arena to practice gamification as they bring a group of people, often strangers, together for a short time to connect, learn and have fun. Advertising games are perfect icebreakers for sales teams and players, creating a disarming atmosphere for positive brand association, data collection and awareness. For conference planners, the goal is not to turn events into games, but to use games as an element of the principles according to which they most effectively involve participants, employees, exhibitors, vendors and sponsors.
Play our New Memory Match Game Demo!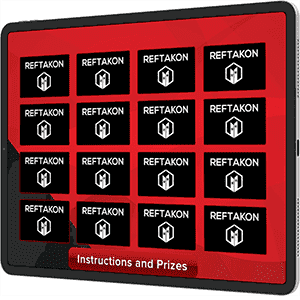 Try the 16 Panel Leader Board memory game below. Looking for an interactive
expo booth idea? This is a short fun game of skill and engagement. View player's scores and their times on the Leader Board. For Big Screen event games press the F11 key to remove the web browser.
CLICK HERE FOR MOBILE AND / OR BIG SCREEN DEMO
Brand marketers must ensure that they are delivering exhibition experiences to consumers at every touchpoint. One way this can happen is through the use of games, contests and interactive content, which effectively engages your customer base while also providing them with a fun brand experience.
The idea behind developing engaging brand moments has been around since before smartphones were present so it's not something new; however, its importance continues growing as more people consume media. If you're looking for ways to keep these customers engaged and interested then consider utilizing instant win promotions. There will be prizes or savings up for grabs—whether digital rewards like coupons redeemable online or in person at trade show events.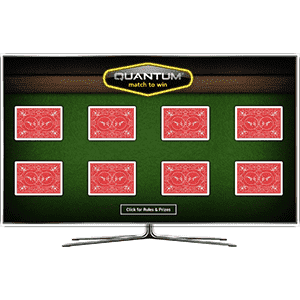 Giveaways, freebies, and rewards have always been fundamental elements of any trade show. Our Interactive Digital Gaming system is perfectly suited for the virtual trade show environment. The rewards and incentives created by our interactive expo booth games drive the participants to spend more time engaged with your brand. What better way to liven up a virtual landscape? We have many products, systems, and capabilities to help you effectively connect with your customers in a digital way.
Interactive Branded Games magnify consumer engagement in their virtual trade shows exhibitions and is a great way to encourage more time spent in the event.
Call now! 1-877-530-4499 for a fast quote and more detailed information.
Because of Covid you can also do this with a QR Code at your Booth. We have some systems for easy redemption.
Trade Show Booth Games
Participants will experience your exibit game as an exciting activity to join in and raise the general mood of their booth. Accompanied by a lively atmosphere that will surely attract more people to your stand, this is a great opportunity to promote your brand. The attraction of this game is the fact that it is based on the popular concept of the lottery.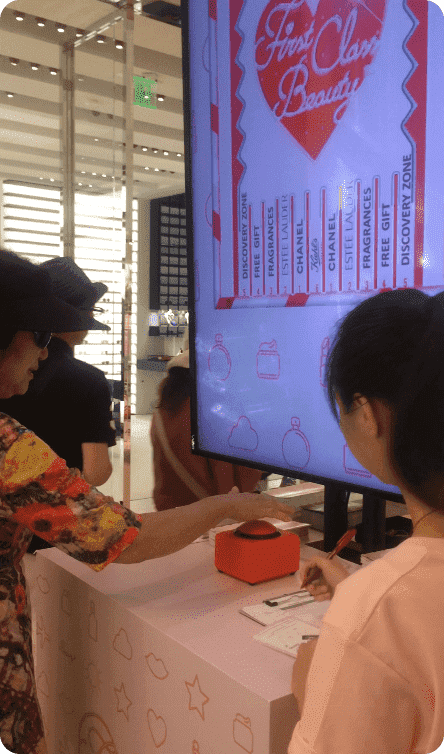 One thing that everyone is looking for at a personal event are freebies and freebies. Some businesses offer features to raffle prizes in their games. Some prizes are digital like gift cards, others physical (e.g. by mail). Some capture on-screen games that can be embedded in virtual events using iframes, links, text, and buttons.
Depending on your virtual event exhibitions, you can have a nice-looking virtual booth or choose a template instead of getting stuck with a boring form. Either way, exhibitors have the chance to enhance the appearance and effectiveness of their stand by using lead capture and digital activation with lead generation games.
Participation in trade fairs can be a great positive benefit for your company. One of the unique events of this kind is that you can present new products at trade fairs and present them personally to your target market. This can lead to many high-quality leads and new customers.
When planning your trade event strategy, it is important that your event is branded. Think about how to grow your booth. Great things that stand out and inspire the inner player in all of us.
This is exactly what you will remember from your event. Trade show can be fun, but also exciting. If you use these ideas, you will inevitably put a smile on the faces of your participants.
Having a classic game such as a virtual prize wheel or slot machine is a sure way to grab people's attention. Nostalgia increases the enjoyment of an event by adding retro branded games that take participants back to their youth. Anyone who has seen a game with a lot to say, Tetris or Pac-Man style template, will feel more confident when he tries to participate because he is familiar with its structure and its goals.
Try to secure a dedicated person for your booth. Even if you hire a professional, ask for a charismatic team member who is great at drawing the crowd, entertaining them and keeping the positivity flowing. A catchy phrase or motto that sticks in the minds of trade booth visitors helps them remember your brand long after the event has ended. Experts would agree implementing this strategy to perfection.
Contact us for a chat about your next event. We've done more events than i can tell you. There are many options! Call David Harkins at 1-877-530-4499 9-5pm EST