LIVE BINGO update for Screen Share, Conference Call or Live Stream
Bingo Version 1.0 is available.  It is a self validating, fully brandable Virtual Bingo system for companies or organazations to either live stream, screen-share or conference call a live Bingo game to participants. Engage employees or customers in a new exciting way. 
Call 1-877-530-4499 for details or to tell us what your ideal game would be or send us an email at info@brand-gaming.com if you have an interest in this engagement tool. Version 1.0 will be limited to computers and tablets for now.
Digital Trade Show Booth Games for Lead Generation, Engagement, Brand Awareness Marketing
Are you ready to make 2020 the year you conquer the trade show scene? Whether you're already a seasoned expert or just starting out we have new and exciting games to engage, motivate, acquire leads, increase sales, awareness and much more. Create a touchpoint experience they will remember. Trade Show Games at your booth are the answer.
People love the thrill of a game and it is fun to do! …it's a psychological fact.  Fully Controlled Online Prize Pool or Optional Offline options. Call for details 877-530-4499
Virtual Events, we have just what you'll need.
Virtual Trade Shows and Virtual Events are becoming a new standard in this time of the virus as an effective way to promote any business by showcasing new products and services and generating effective leads.
Participants can be invited from all over the world. Companies of all types are using virtual technology as a cost-effective way to create a return of investment through brand engagement using our digital game technology.
Giveaways, freebies, and rewards have always been fundamental elements of any trade show. Our Digital Gaming system is perfectly suited for the virtual trade show environment. The rewards and incentives created by our gaming system drive the participants to spend more time engaged with your brand. What better way to liven up a virtual landscape? We have many products, systems, and capabilities to help you effectively connect with your customers in a digital way. Interactive Branded Games magnify consumer engagement in their virtual trade shows and is a great way to encourage more time spent in the event.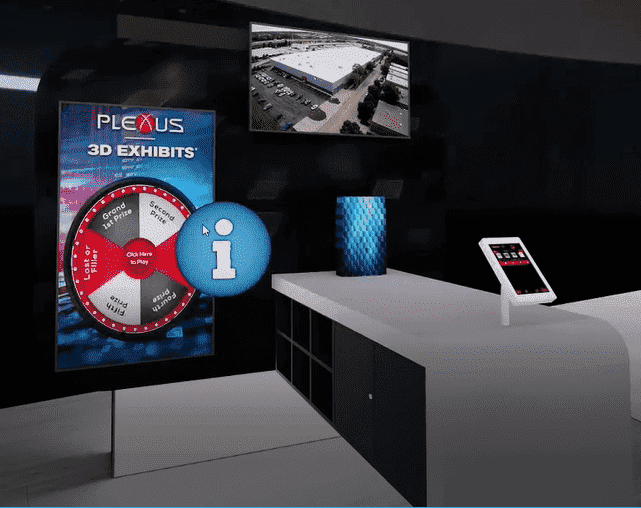 Call now! 1-877-530-4499 for a fast quote and more detailed information.
There are lots of options and innovative strategies to do effective digital Trade Show Booth games at shows for lead generation or pure engagement. It is best to call and chat about it.
New: Large Push Button activation games. A mix of physical and digital make the games more exciting!
New: Memory Match Games.  They are quite addictive and fun to play. One version even has a Leader Board Play with it here
New: SMS to Screen!  Players send a text message to the game on a monitor. Their name will appear and activate the game.
New:  Pre-game Survey's with scoring for "Predictive Prizing." The quality of the lead ensures the outcome of the game. Call the Developer, David Harkins toll-free at 877-530-4499.
We recommend that you have a large screen monitor above head level. We also suggest you have multiple computers should your line get too long.  
A few recent unedited, unsolicited emails to us about our Trade Show Booth Marketing Games:

 
I just wanted to let you know that the game was a big hit at our conference this weekend! It worked seamlessly and my team (and the game players!) were very impressed.
Thank you so much! The games turned out great, and we really appreciate how responsive and helpful you've been throughout this process.
Everyone loved the game! It was the highlight of the Trade Show booth. We had a line of people waiting to play the game. Thanks so much for all of your help!!
It was so great! Everyone loved it 🙂 Having it on a touch-screen was also AMAZING!
Digital Trade Show Games for Marketing
Try the below Demos! How they work. They are compatible with any device and any screen resolution. We can also custom modify them for various situations or layouts.
When using a computer use the f11 key to remove the web browser.
When using a tablet, send the link to the tablet and Add to Home Screen. This will place an icon the tablet. When you open the tablet it will be full screen.
Instant Win Trade Show Game Demos
Game Features
You set the odds with the inventory amounts for each prize level.

Optional collection of contact data

Fully Branded to your Business

All Device Compatibility

Anti-Fraud mechanics

Primarily Self Managed

SSL Secured Data

Zapier Automations

Developer Phone Support
Game Options
Send a branded email to all players
Full-Screen Monitor or Tablet Display
Zapier Data Integrations
Player Restriction Rules
Up to Six Prize Levels
Redirect by Prize Level
Optional Schedule by Day
Use Variable Data
Limited Offline Usage Available
Game Add-Ons
Add a BIG PUSH BUTTON

Unique Play Code to Play

Display Unique Bar Code or Bar Code Numbers in Email

Display Coupon Codes On-Screen

SMS to Screen

Kiosk with Printing

Convert email to SMS*

SMS Autoreply to Play

Custom Game Development
Check out the latest greatest tool for event marketing. SMS To Screen Games
New Match Games - Timers, Leaderboards or clicks to win.
More examples! Every Game is Custom Branded!

Available Games: Prize Wheel, Scratch Off, Virtual Golf, Slot Machine, Memory Match, Plinko, Choose One, Bingo, Dice and the new Money Machine!
Trade Show Engagement Marketing Games
Since people love Trade Show giveaways and other freebies, trade show marketing games software is indeed the best solution. Many businesses offer fun branded games in order to attract more customers to visit their event. With the help of games that offer instant wins, more and more customers are enjoying interactive games.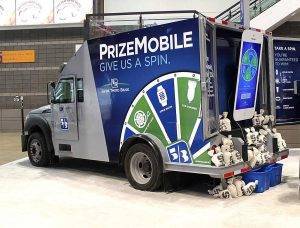 Using Trade Show Games you can even collect names, email addresses and other personal details from your prospects so that you can efficiently increase your sales and achieve your business goals in a more efficient and convenient manner. Truth is, lead generation needs capturing personal information of your potential clients especially the email address in order to update your contact list and send emails conveniently.
With creative and fun event games. Through Trade Show brand engagement as well as awareness experiences, customers have a personal connection to your brand.
Interactive Trade Show game programs can be used by all e-commerce stores on the web through coupon codes. Help your brand get an upbeat customer experience and let people notice your promotional products and services. In fact, there is no better way to promote your brand right now but to offer these brand gaming platforms online to increase your customer base and sales marketing efforts.
When it comes to Trade Show Games client surveys, you can add incentive elements to quickly entice the attention of your visitors. Whether your business is direct mailing, financial company, hair and beauty salon, travel agency, retail, or any type and size of business, interactive gaming is the way to go. No matter what your corporate goals are, this is the ultimate way to improve your sales and increase your customers online.
Take a couple of minutes and view this Portfolio Slideshow of some of our work or go directly to the gallery of past games.
In order for us to help you better understand Trade Show Games as a digital marketing solution call us any time at 877-530-4499