Kiosk Games
Kiosk Game Options are almost endless!
Kiosks are a great way to promote in-store giveaways and our games are perfect for kiosks. Our eye-catching games are sure to grab your customer's attention in a fun way that they will be sure to remember! All of the Kiosk Games come with many options to meet many needs.  Just some of the configuration options are listed below.

Input data
None
Scan
Keyboard
SMS
Interaction
None
Touch Screen
Push button, foot pedal
SMS
Output results
None
Print
Email
SMS
On-screen

Every kiosk is different. Any size, any shape! Our kiosk games come with a free configuration setup for testing with your kiosk hardware such as scanners and printers. The games are fully customized to show your branding and to best showcase your promotion .
In-Store Retail Merchandising and POS Games to engage and incentivize!
10 fast in-store customer engagement ideas for any retail business using branded games to grow sales and loyalty.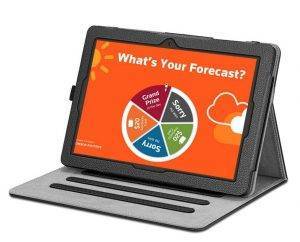 Why Games? They are Fun, Effective, Engaging, Affordable and let's face it, games are everywhere since they have so many benefits.
Create an in-store (POS) Point of Purchase game to engage players with discounts, rewards or prizes. Optionally collect their contact information
Allow a customer to purchase something specific for a chance to win a discount.
Add a web address to your receipts inviting customers to enter their receipt number and other contact data for a chance to win something.
Use the SMS to Screen game in a display window where people can play through a window with their phone for a chance to get an immediate discount or other incentives to pull them into the store.
Use games to encourage Gift Card sales. Buy a Gift Card get a chance to win.
Print business cards with Play Codes and a web address to a game. Use the business cards strategically to create new types of segmented email lists to target specific customer types.
Use tablets or kiosk to run surveys where ate the end of the survey they can be rewarded
Increase customer frequency with strategic marketing strategies using either a Kiosk that prints receipts or emailed offers from a game after a play.
Partner with distributors, neighbors or value-added businesses and everyone will benefit from controlled interactive promotions. Games are as versatile as your imagination.
Create a brand awareness campaign to highlight new products or services. Some games can simply be educational and fun. Perhaps a Memory Match Game.
Game Features
You set the odds with the inventory for each prize level.
Optional collection of contact data
Fully Branded to your Business
All Device Compatibility
Anti-Fraud mechanics
Primarily Self Managed
SSL Secured Data
Zapier Automations
Developer Phone Support
Game Options
Send a branded email to all players
Full-Screen Monitor or Tablet Display
Zapier Data Integrations
Player Restriction Rules
Up to Six Prize Levels
Redirect by Prize Level
Optional Schedule by Day
Use Variable Data
Limited Offline Usage Available
Game Add-Ons
Add a BIG PUSH BUTTON
Unique Play Code to Play
Display Unique Bar Code or Bar Code Numbers in Email
Display Coupon Codes On-Screen
SMS to Screen
Kiosk with Printing
Convert email to SMS*
SMS Autoreply to Play
Custom Game Development
Call now! 1-877-530-4499 for a fast quote and more detailed information.
Why Brand Gaming? We make this easy to do!
We will work directly with you to execute your promotion or application to be certain you are leveraging the full value of our systems. Secondly, we know that one size does not fit all and you don't have the time to master every aspect of our technology. Most importantly Brand Gaming will work with you to build out your promotion. The execution does require good communication.
Customer Engagement Through Interactive Kiosks. We make Kiosk's Fun!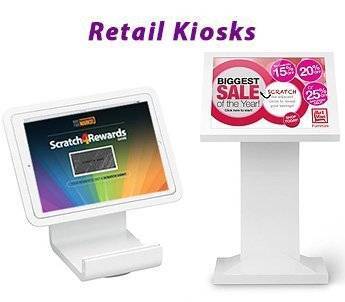 Game Kiosk versions operate in a variety of ways. You may purchase a fully designed kiosk from any kiosk manufacturer, or build your own using a lightweight countertop computer, monitor, and receipt printer.
If you are looking to use a Kiosk, then you are looking to get people's attention, engage and optionally supercharge your email list. Get them excited about buying your products or services. Everyone loves a game and the chance to win a prize will always attract attention. By either participating in or watching an interactive Kiosk game, people are getting excited about the services or products you offer.
There is no greater incentive to see your branding than the offer of a prize and few people can pass up the chance to get something for free.
Fill any of our custom branded games with prizes or coupons. You set the inventory and the odds with unlimited access to the Administrative Center. You may either collect contact data or not collect. Either way, you may optionally email or SMS the win to the player.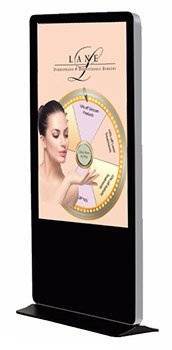 Here's what a Branded Game Kiosks can do for you.
Give a fun brand experience
Reward frequent customers through targeted offers to increase revenue.
Draw attention with amazing brand visibility
Gather personalized contact information
Promote new product and or services
You're in control
Every game is fully brandable! You get complete control for prize and coupon distribution.
You set the inventory and the prizes
Print, Email or SMS options for prize redemption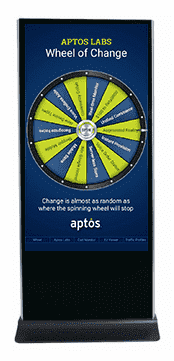 Available for In-Store Retail Game Kiosk Instant Win Games
Prize Wheel, Scratch Off, Virtual Golf, Slot Machine, Virtual Plinko, Dice, Bingo or Custom Instant Win Games.
The possibilities are endless. Eye-catching Kiosk games are guaranteed to increase foot traffic to any location. And with Kiosks being on location, thrilled customers will walk away as winners.
Because businesses of all sizes can use them to promote sales of overstocked products and move items that would be let go on clearance sales. This product is also tremendous for increasing return customer frequency, cross-promoting businesses and may be used for incentive points or discounts with Frequent Customer Clubs.
Everyone loves a giveaway and odds-controlled interactive games create even more excitement. Nothing says "Prize" more than the Prize Wheel and all of our eye-catching virtual games are sure to attract attention to your kiosk and your branding. In addition to the Prize Wheel, we have Slot Machines, Scratch Off and Plinko style games. They can all be custom branded and virtual gaming is an exciting way to draw attention to your company.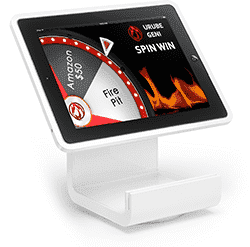 Digital Kiosk Gaming presents one of the most budget-friendly ways to see a return on your investment. We have spent over ten years creating a customizable virtual marketing experience that showcase your brand or product in a truly memorable way. As far as affordable marketing, most of the work is already done. With a minimum amount of set up, the Kiosk Game can be automated to work around the clock during your business hours. The games have colorful, appealing screens that are customizable to include a logo and backgrounds that compliment brand colors. Screens can be on tablets or large monitors either horizontally or vertically.
There is no better way to get customer attention all day long. Promotions using one of our games reach an average of up to 90% engagement, making it one of the most accessible and popular ways to show your products or services. Brand Gaming's Kiosk Game Technology presents a unique opportunity to catch the attention of potential new customers while expanding loyalty with your past clients.
You have total control over the inventory and tracking of prizes and you can easily add, remove or change inventory items daily, weekly or for different events. Information gathered from players can be saved or exported to be used as leads for future sales or promotions.
Little or no skill is needed from the players and it is a great way to create energy and excitement about what you have to offer.
Fill your Prize Wheel or Slot Machine or any of our games with prizes or coupons. You set the inventory and the odds. You may either collect contact data or not collect. Either way, you may optionally email or SMS the win to the player.