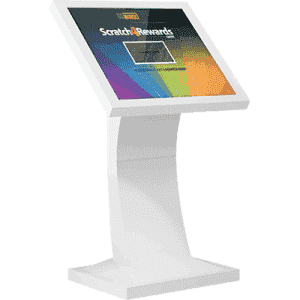 Promote the Virtual Prize Wheel at your store. Shopping is many peoples favorite past time and with the economy the way it is, they are always looking for deals. When customers come to your website and see the virtual prize wheel, they will take a chance at winning something. Then this will direct them to your physical location to redeem their prize and or coupon. Once you have them, you can do monthly giveaways. This will keep your customers coming back. This will help keep your customers during the slow times.
The Virtual Prize Wheel could also be promoted right from your physical location. Set up a kiosk at the entrance. When they see that there's a chance to win something, this will attract the window shoppers to come in and possibly buy something.
Retail merchandising with games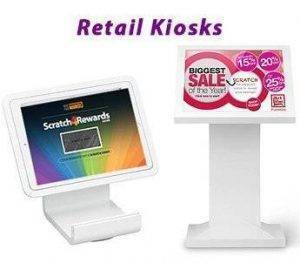 Retail merchandising is the discipline of showcasing brands and products in stores and retail stores to optimize customer journeys and boost sales. It is a practice that uses strategies to increase retail sales to consumers. It covers everything from advertising, store layouts, product presentations, and free samples in stores.
This includes using both games and product signage, advertising displays, shelf talk, and other marketing materials. Retail merchandising games may also refer to certain products that appear on store shelves, display structures, end caps, or other physical locations within a store.
The traditional definition of merchandising goes something like this: "Merchandising refers to the variety of products offered for sale or presentation of a product that in some way represents a product in such a manner that it arouses interest and enticements a customer to buy. The phrase "tempt a customer to buy" speaks of one of the primary objectives of visual goods. Driven by brand awareness and differentiation, this form of marketing competes for the attention of shoppers in retail stores and supermarkets who have high expectations of the experience. Games will increase product awareness.
Visual Merchandising with Games
As the number of references grows with the average store size, visual merchandise games will carry more weight tomorrow than they do today. The POS displays product presentations in an organized way that doesn't irritate, makes the shopping experience more enjoyable and finds that shoppers come back for more.
Visual merchandisers help to organize products in-store so that customers can more easily find what they are looking for. You don't have to spend a lot of money to create product displays that show your products and convert more people from research to paying customers. Understanding your target customers is the first step towards creating effective visual merchandising product displays.
One way to enhance your in-store experience game is to use your displays to cross certain products. Using point-of-sale reporting capabilities, you can find data on how cross-product sales are arranged in your displays. We do this using our bar code capabilities.
Visual merchandising using games is becoming a common practice in the retail industry. Merchandisers develop games and three-dimensional product displays using screens to organize and present products to maximize in-store sales. At the same time, customers are spending less and less time shopping, which is good because visual goods give an understanding of what is on offer and let them interact with it. Product presentation and POS display initiatives using games in retail supermarkets and return to the basic rules of retail visual sales.
Successful retail stores are visited by a great many people every day. It's no secret that for today's go-to shoppers, big box stores and supermarkets are the go-tos. They provide an optimized experience for your customers and facilitate marketing for your products.
Digital displays with games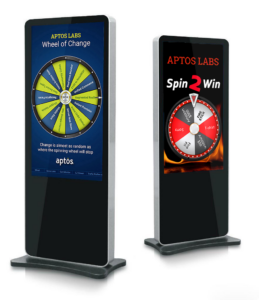 Digital displays with games not only have a high chance of attracting the attention of passing shoppers, but they also provide an opportunity to interact with them to have a brand experience and purchase. This type of approach poses a significant challenge for e-commerce merchandise departments, which are working hard to maximize product presence in the old way, as the tools do not support the flexibility, agility, and scalability required to provide buyers with a truly personalized experience. Successful implementation of a variety of tactics can be helpful to the success of a product. Therefore let us examine how you can ensure that your visual merchandising strategy is convincing enough for customers to reach your product in the shortest possible time.
Available Branded Games for Marketing Instant Win Promotions

Virtual Prize Wheel, Virtual Scratch Off, Virtual Golf, Slot Machine, Plinko, Dice, Choose One, Virtual Bingo, Memory Match and Custom Instant Win Games.