Marketing Games for Websites.
Turn your website visitors into leads!
Accelerate Your Visitor Engagement
We can add the power of gamification to increase visitor engagement. Brand your Brand to Life with a positive brand engagement and a little fun.
Use Our Virtual Interactive Marketing Promotions to:
Promote Brand Awareness
Lead Generation Tool to acquire contact data
Improve your Interactive Online Advertising
Improve Customer Loyalty
Reward / Motivate Customers or Employees
Create Positive Brand Engagement
Drive People Into Your Website/Booth/Store
Increase Advertising Response Rates or CTR's
Increase Customer Frequency
… and so much more
VISIT OUR GALLERY to see what others have done. There are many versions and options for creating unique Game promotions. Call now! 1-877-530-4499 for a fast quote and more detailed information.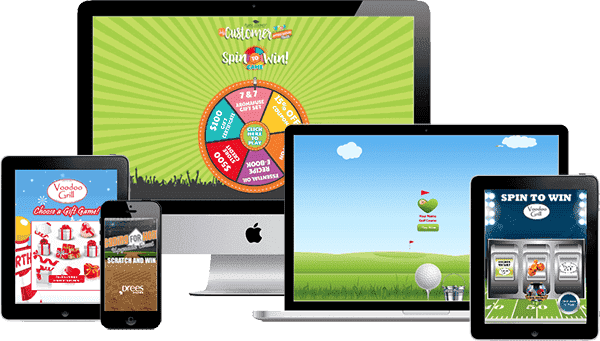 You have complete control! Every game is fully branded! You get complete control for prize, coupon, and points distribution. You may also collect data for lead generation, We also provide Fraud Protection for the protection of your game from abuse use of Play Rules. For instance restrict to One play per email addess, or IP address. Exciting features include sending players an email. Automation of data to over 5000 online applications using Zapier. You also have the option to put a unique code number or bar code into every email and lots of other things. Contact us to chat about a Marketing Games for your website.
Game Features
You set the odds with the inventory for each prize level.
Optional collection of contact data
Fully Branded to your Business
All Device Compatibility
Anti-Fraud mechanics
Primarily Self Managed
SSL Secured Data
Zapier Automations
Developer Phone Support
Game Options
Send a branded email to all players
Full-Screen Monitor or Tablet Display
Zapier Data Integrations
Player Restriction Rules
Up to Six Prize Levels
Redirect by Prize Level
Optional Schedule by Day
Use Variable Data
Limited Offline Usage Available
Game Add-Ons
Add a BIG PUSH BUTTON
Unique Play Code to Play
Display Unique Bar Code or Bar Code Numbers in Email
Display Coupon Codes On-Screen
SMS to Screen
Kiosk with Printing
Convert email to SMS*
SMS Autoreply to Play
Custom Game Development
Call now! 1-877-530-4499 for a fast quote and more detailed information.
Why Brand Gaming? We make this easy to do!
We will work directly with you to execute your promotion or application to be certain you are leveraging the full value of our systems. Secondly, we know that one size does not fit all and you don't have the time to master every aspect of our technology. Most importantly Brand Gaming will work with you to build out your promotion. The execution does require good communication.
Are Digital Games a good idea for website marketing?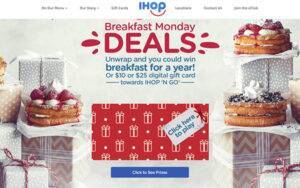 Games are an effective way to engage users and drive traffic to a website. They can create a fun and interactive experience for users, which can encourage them to spend more time on the site, win prizes or discounts and learn about the products or services being offered, and share the website with their friends and followers on social media.
Our games are well-suited for website marketing. This type of game ensures that the game aligns with the marketing goals and resonates with the users. Additionally, the game should be graphically well-designed. They are user-friendly, and optimized for mobile devices to provide the best user experience.
In summary, games can be an effective marketing tool, but they should be carefully planned and executed to achieve the desired results.