Big Push Button Games for Trade Shows / Events
USB Push Button Games
Everyone loves a giveaway! We've just made it way more fun when using our Push Button Games! Who doesn't like a big push button game! We bet you do too! Our odds controlled interactive games create even more excitement at events, trade shows. in-store / restaurant when using a big push button.
The use of our Game Marketing instant win software application to create excitement and offer a fun brand experience is almost without limits. Our game innovations help businesses engage, attract, interact with, increase business and so much more.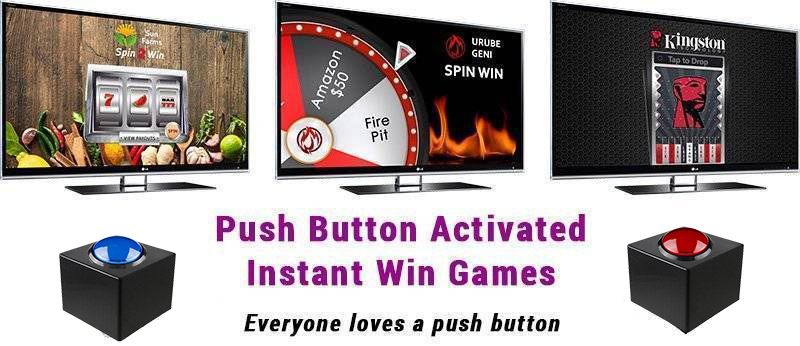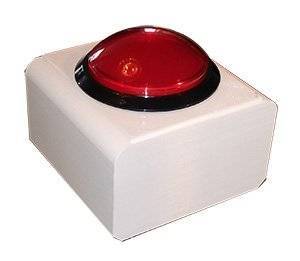 The USB big red button activates the play on the screen.. The push button activation system has lots of uses such as the countertop. Either inventory controlled or even odds random prize or coupon awards with the push of a button. Point of Sale Discounts, restaurant drink promotions, Point of sale application or points toward loyalty application.
We offer the buttons as an add-on for convenience or you may buy directly from a custom button manufacturer that can customize your button in many different ways.
At the moment we have a variety of interactive instant win games such as a Prize Wheel, Slot Machine, Plinko style game, Golf Long Drive and Random Prize Generator. All you set the odds and the prizes or discounts.
Client Quote: "Everything worked FLAWLESSLY! It was a huge hit. We had about 1300 wheel spins in 3 days. The button also worked out great. Even though people were really slamming the button like they were on a real game show, the button worked great!"
A few fun and BIG BUTTON game uses:
Big screen with the big button at events and trade shows

Countertop fun game offering a discount on the spot or for future use in any retail store.

Digital Signage with game activation with the big button

Restaurant or Bar offering an hourly discounted offer.
Big Button Demo Games
Demo games are set up at 1920×1080 screen resolution. Open the link to the game and press the F11 key to remove the browser. The game will show Full Screen.
Use the Spacebar to activate the game. The Big Button utilizes the spacebar as the command
Drop the Disk Plinko type Game
Client Quote: "This game created the exact buzz we were hoping for on the show floor, and people LOVED it! It's amazing how a little red button can create so much excitement! I've attached a few pictures – we totally got into it by wearing the red sequins – made it extra flashy! What a blast."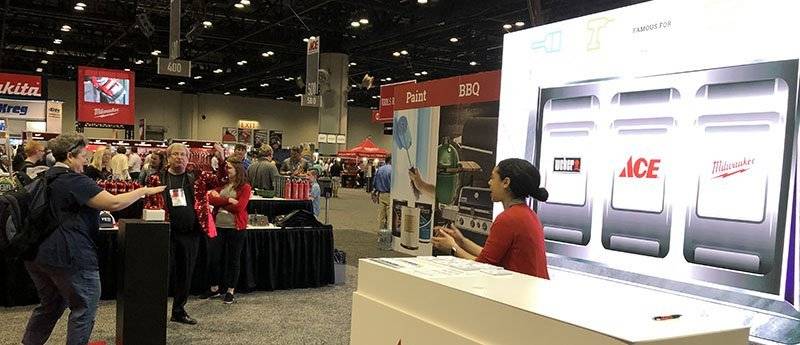 When it comes to options, Brand Gaming has the needs of clients covered. In fact, product improvements are based on the perception of the users for ultimate performance. The highly advanced options, as well as systems, enable your company to engage like never before. With the help of the professional and highly experienced team, Brand Gaming has simply made engagement more fun.
Go Touchless with Foot Pedal activated games