Custom Branded Marketing Games
Everyone loves a giveaway!  We've just made it more fun! The use of our Game Marketing instant win software application to affect consumer behavior is almost without limits, our innovations help businesses engage, attract, interact with, increase lead generation and so much more.
Cross-platform for Websites, Event Marketing, Apps, Retail Stores, and more… Get your Game on!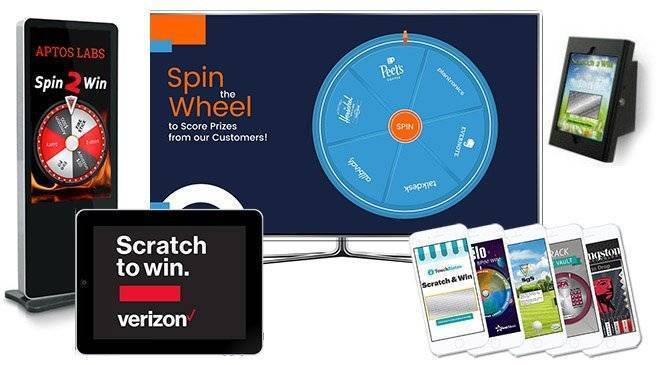 If you attend a business expo, watch which table has the most people standing in front of it – it's usually the one with a spinning wheel for a chance to win a plastic mug, even though the guy right next to it is giving similar items away just by asking for one!
People love the thrill of winning and something fun to do…it's a psychological fact.
Our Interactive games are very versatile and capable of 1000's of interactive promotions.
Available Instant Win Games
Prize Wheel, Scratch Off, Virtual Golf, Slot Machine, Choose One, Virtual Plinko, Golf, and  Bingo.
Why Brand Gaming?
Brand Gaming is about custom branded games and options!
First off, we work with you to create your promotion. We know that one size does not fit all and you don't have the time to master every aspect of our technology. We work with you to build your promotion.
We have been at this the last 10 years and our client's suggestions have propelled our application to include great features and systems. Simply put, we can do things that can not be done with inexpensive DIY online apps. We're serious about games because we know that the most powerful marketing force in the universe is games!
Please browse the website, play the demonstration games, see the features and options then call and speak to the developer, David Harkins at 1-877-530-4499 to discuss your needs and to quote your instant win promotion.
You set the prizes, you set the odds!  Unlimited access to the self-administered Administrative Center, however, we help at any level so you will be self-assured of a sound promotion.  A unique interactive promotion for brands of all sizes!
Options, usage, and design at a glance
Odds & Inventory Controlled Marketing Games for Websites, Mobile, Retail, Social & More!

Carefully crafted over time for all devices.