QR Code Games for Promotions
QR Code Games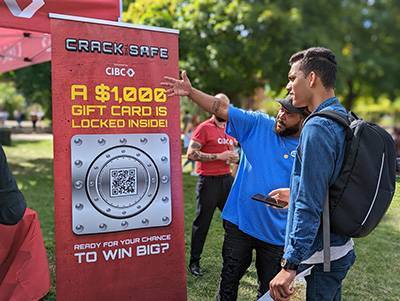 If you're not using QR codes for your business yet, then it's time you started using them.
We're seeing a lot more interest compared to 10 years ago when we first learned of them. Easy automated and effective!
Called QR for Quick Response, QR codes are an awesome mobile marketing tool. They guide potential new users and quality customers to a brand experience in a fun and effective way.
Everyone loves a giveaway! We've just made it way more fun when using QR Codes! Our odds controlled interactive games create even more excitement at events, trade shows. in-store / restaurant when using QR Codes
The use of our Game Marketing instant win software application to create excitement and offer a fun brand experience is almost without limits. Our game innovations help businesses engage, attract, interact with, increase business and so much more.
Try the below demo!

QR Code Games are a great tool for:
Lead Generation
Brand Engagement
Coupon Distribution
Franchises
Restaurants
Retail Stores
Banks & Lending Institutions
Car Dealerships
Small Business & Mid-Sized Business Owners
Trade Shows, Events and Conventions
When it comes to options, Brand Gaming has the needs of clients covered. In fact, product improvements are based on the perception of the users for ultimate performance. The highly advanced options, as well as systems, enable your company to engage like never before. With the help of the professional and highly experienced team, Brand Gaming has simply made engagement more fun.
Not only are they an ideal tool to increase sales by offering discounts and coupons for your products or services, but you can also use them to draw a crowd to an event or promotion by emailing redemption codes in advance or posting them on your social media pages. Our QR Code Games are fully rebranded to your company