SMS to Screen – Play Digital Sign Games on Monitors
SMS to Screen Games
In a time of large displays, smartphones, and competitive lead-generation strategies, an innovation presents itself.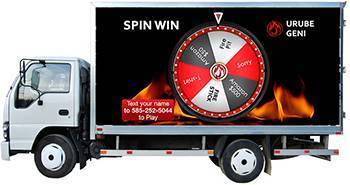 The SMS To Screen Digital Sign game is an automated marketing tool that employs a web-enabled monitor and any persons mobile phone to deliver several value-options to prospective customers.
The interesting thing about Digital SMS To Screen or Digital Signage games is that they do not require any physical console and can be played remotely by simply using any mobile phone. The text message app is on every phone worldwide. It doesn't get easier than this!
By employing SMS Text Digital Signage, businesses are able to:
Influence customer behavior
Provide incentives
Enable engagement
Generate Leads
Increase sales through strategic SMS messaging.
Create a very unique brand experience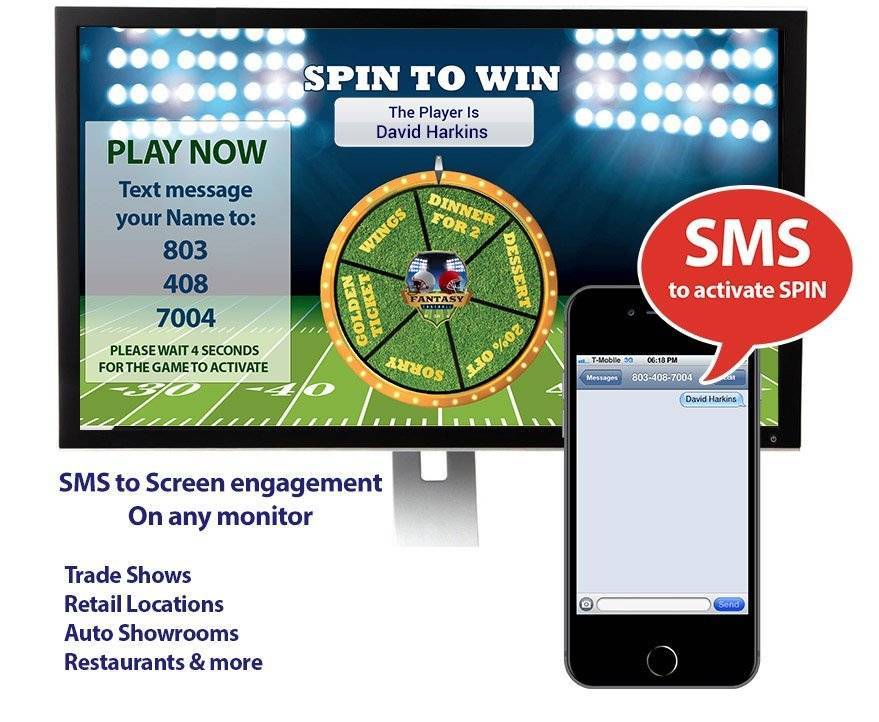 SMS to Screen – Text to Monitor Game
The underlying technology is complex and needs to be well understood. For a conversation and demonstration please call 877-530-4499
SMS To Screen games can be displayed on various kinds of screens ranging from: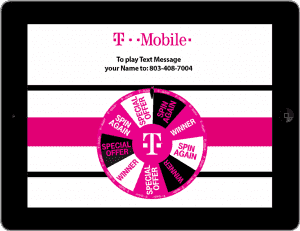 Innovative Digital Signage Game
Large outdoor screen displays
Large screen displays at game centers and sporting arenas
Monitors displayed in malls, retail stores, restaurants and other businesses, even trucks!
Any viewable monitor with a web browser
There are immense business applications for the SMS-To-Screen games for digital signage, where the game's value can be applied to achieving the engagement objectives of various businesses and locations.
2023 is the year that mobile becomes required to the digital eco-system. Technology and phones are evolving to seamlessly work together. This allows developers to build bring together SMS and data in new ways. With technology evolving at an unprecedented rate, it is important to understand your customer and how they want to interact with your products and services via mobile.
Business is more data-driven than ever before. We have fun solutions to engage and capture data driving business through strategic gamification.
There was a time that you could make a game and publish it as a single Flash file and expect it to be to work nicely for everyone. Creating working games for all devices, operating systems, web browsers, screen resolutions and various aspect ratios is not a simple task, to say the least. It is constantly evolving through new technologies and trial and error.
We offer a variety of variations of mobile and tablet marketing SMS GAMES in the Wheel App and Scratch Off App. Our Prize Wheel and Scratch Off App runs like a native app in the Web Browser. There is nothing to download. Browse to the game and Play!
Play newest cross-platform digital games VIRTUAL PRIZE WHEEL, SLOT MACHINE, VIRTUAL SCRATCH OFF or VIRTUAL GOLF games for all devices.