Branded Marketing Games
With the move to mobile browsers and tablets you'll need new ways to keep communicating with potential customers. Offer them a fun and unique brand experience with a great game!
Branded Games for Marketing and Instant Win Promotions include:
Prize Wheel, Scratch Off, Virtual Golf, Slot Machine, Virtual Plinko, Open Vault, Memory Match and Custom Instant Win Games.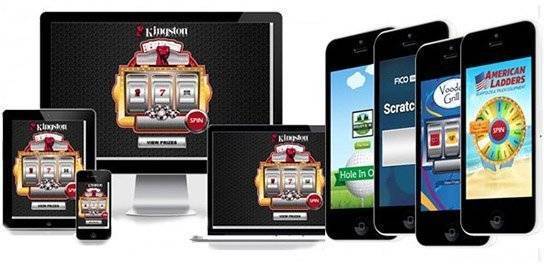 What are benefits of branded mobile marketing games?
Branded mobile marketing games, which are games that incorporate a brand's messaging, logo, and other elements, can offer a range of benefits for both the brand and the users who engage with the game. Here are some potential benefits of branded mobile marketing games:
Increased brand awareness: Branded games can help raise awareness of a brand by putting its logo, colors, and messaging front and center. Users who engage with the game are likely to become more familiar with the brand and may even share the game with their friends, family, or social networks.

Higher engagement: Games are inherently fun and engaging, which means that users are likely to spend more time interacting with a branded game than they would with other types of content. This increased engagement can lead to higher brand recall and more positive brand associations.
Enhanced user experience: Branded games can offer a unique and memorable user experience that sets the brand apart from its competitors. When a brand offers a game that is enjoyable and well-designed, users are likely to have a positive impression of the brand as a whole.

Data collection: Mobile marketing games can be designed to collect user data, such as demographics, preferences, and behavior. This data can then be used to inform future marketing efforts and product development.

Social sharing: Branded mobile marketing games are often designed to be shareable on social media platforms. When users share the game with their friends and followers, this can lead to even more brand exposure and engagement.
Furthermore, branded mobile marketing games can be an effective way to engage users, build brand awareness, and collect valuable data. However, it's important to design the game with the user experience in mind and to ensure that it aligns with the brand's values and messaging.