Trade Show Booth Games Drive Traffic
In today's fast-paced world of digital communications, trade show booth games to drive traffic for events remain a key marketing strategy for many businesses.
Trade Shows, Wedding Conventions, Expos, and other marketing events always showcase the best of the best in all services and merchandise. You need to be creative and original to stand above your competition. Trade Show Games at your booth are the answer. Your job is to bring attention to your booth and nothing brings immersion and excitement toward your brand like an interactive prize game. The best way to increase foot traffic and captivate a large audience is with trade fair games and giveaways with the chance to instantly win a prize.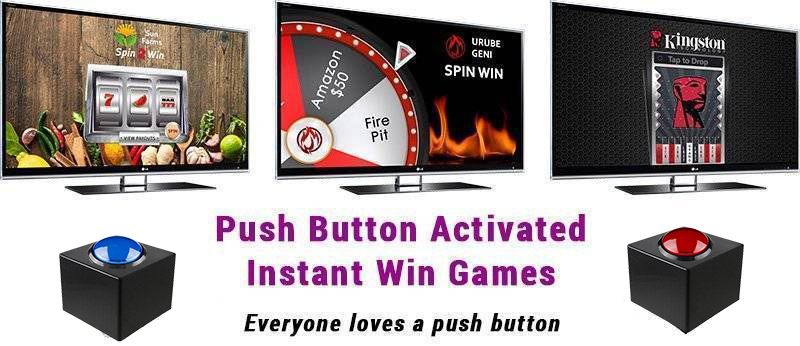 Trade Show Booth Games
Everyone loves a giveaway and odds-controlled interactive games create even more excitement. With the help of games that offer instant wins, more and more customers are enjoying interactive games. Nothing says "Prize" more than the Prize Wheel and all of our eye-catching virtual games are sure to attract attention to your products and your branding. In addition to the Virtual Prize Wheel, we have Slot Machines, Scratch Off and Plinko style games. They can all be custom branded and virtual gaming is an exciting way to draw attention to your company at any event.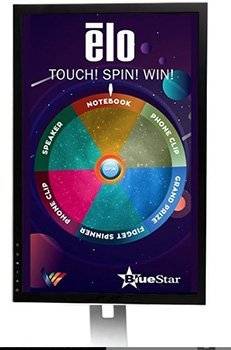 Little or no skill is needed from the players and it is a great way to create energy and excitement about what you have to offer.
Promotions using one of our games reach incredible levels of engagement, making it one of the most accessible and popular ways to show your products or services.
With Interactive Trade Show games, you have an essential component for creating new customers and generating new leads.
Through this type of brand engagement and face to face introduction, customers create a personal connection to your brand.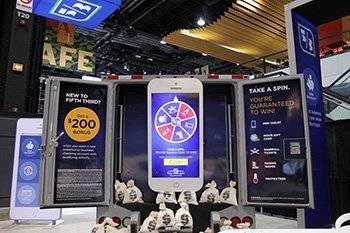 Successful exhibition at a trade fair demands long term returns on your investment. To really get the most out of the money you spend on any event marketing, you need a plan that will keep bringing business long after the event is over. Lead generation requires capturing personal information of your potential clients, especially the email address, in order to update your contact list and send emails conveniently.
With Brand Gaming Trade Show Booth Games you can easily collect names, email addresses and other personal details from your prospects so that you can efficiently increase your sales after the event is done. The trade show is an opportunity to meet potential customers and the prizes given with our games gives incentives that ensure return customers.
Interactive Trade Show game programs can be used by all e-commerce stores on the web through coupon codes. Help your brand get an upbeat customer experience and let people notice your promotional products and services. In fact, there is no better way to promote your brand right now but to offer these awesome trade show ideas to increase your customer base through future marketing strategies.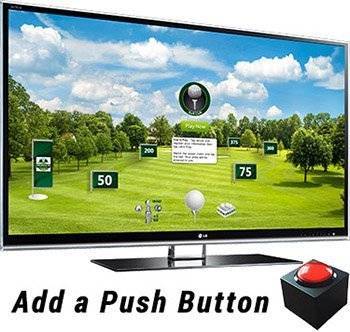 When it comes to Trade Show Games client surveys, you can add incentive elements to quickly entice the attention of your visitors.
Whether your business is direct mailing, financial company, hair and beauty salon, travel agency, retail, or any type and size of business, interactive gaming is the way to go.
No matter what your corporate goals are, this is the ultimate way to improve your sales strategy and increase your customer's loyalty.
You have total control over the design of the game's branding, the prize inventory and tracking of prizes. You can easily add, remove or change prizes daily in a multi-day event. All information gathered from players can be saved or exported to be used as leads for future sales or promotions. To ensure maximum visibility from the crowds at conventions and trade fairs, the games can be played on large monitors either horizontally or vertically.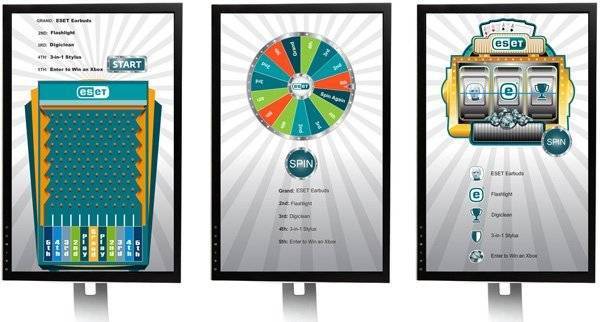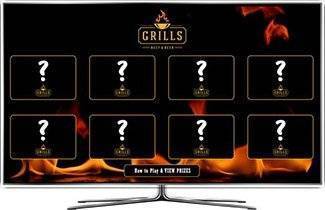 Take it from us, there is no better way to get customer attention and foot traffic to your trade show booth all day long.
Brand Gaming's ten years of innovations in Trade Show Game Technology presents a great opportunity to catch the attention of potential new customers and keeping them as clients in the future.
You are only limited by your imagination and drive to create new business. Everyone walks away a winner.
Please try any of our Demo Games for Prize Wheel, Scratch Off, Virtual Golf, Slot Machine, Match Three, Virtual Plinko, Choose One, and Bingo listed above. In order for us to help you better understand Trade Show Games as a digital marketing solution call us any time at 877-530-4499