For automotive dealer promotions lead generation initiative, the car dealership offers potential customers a chance to play and to win prizes and or coupons from their Virtual Prize Wheel located on their website.  The leads generated from players are then used for follow up and online email marketing campaigns.  This will engage future customers in a fun way while generating new business.
Your dealership has website visitors coming and going all day long. The Virtual Prize Wheel will let you know they were there!  Virtual Prize Wheel marketing is simple, effective and measurable.
Not only could you use it to drive customers in, but you could use it as a Sales Incentive. This will increase the productivity of your salespeople. The sales person that sells the most cars gets a chance at spinning the wheel.
Idea Note: Offer a single large prize over a long promotion period. Offers may include coupons valid towards a purchase, service, parts and accessories.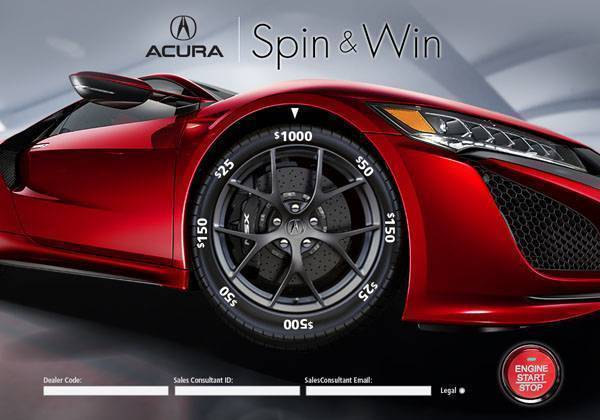 Email marketing of leads is one of the most cost-efficient marketing strategies for auto dealers and OEMs. Brand Gaming specializes in the generation of e-mail marketing leads for merchants and manufacturers and the lead generation of mobile apps using games based on incentives.
Most dealers advertise on the same websites and use the same marketing services. Car dealers use PPC ad tools such as Google AdWords to get to the top of search results. They focus on the keywords that their potential customers enter to search. Adding a game such as a Virtual Prize Wheel or a Digital Scratch-off is a method to greatly improve lead generation.
This makes it important for car dealers not only to meet their potential customers where they are with a game. People love games, it's a fact!, but also to do so with helpful information and guidance, which gives a great opportunity to take their leadership efforts to the next level. The more you can create a seamless network of dealer pipelines, the more likely it is that online shoppers will choose your dealer over the competition on the street. In fact, 86% of consumers are trained before going to a retailer.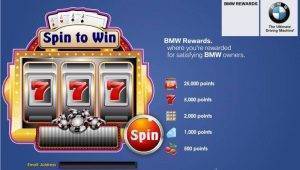 When you optimize your website, adding a game is a valuable resource for lead generation. Social media marketing can help you generate tons of leads using games. Adding live chat functionality to a website is a proven method to increase the lead generation for dealers. Then offer a game with the incentive for them to come into the showroom
By using Facebook Auto Sales Lead Generation along with a game, you have the ability to place your advertisements in front of a target audience interested in the vehicle you are selling. The Facebook Auto Sales Lead Guide provides information on how to find new or used customers for your new or used car dealership with just one click, as long as you follow the guidelines listed below.
Digital Games is an innovative lead generation system for car dealers that solves many communication and lead generation problems. Not only do we give you everything you need to generate more leads with the convenience of a fun game, but we also qualify them for you in the data entry system and you will see amazing sales results and an unbeatable ROI.
It's easy for people to confirm what information they want to share with you and give you the ability to track leads. And when a potential customer submits their submission form of the game, your retailer collects valuable consumer data that can feed into your broader lead generation strategy.
Available Branded Game Marketing Instant Win Games
Virtual Prize Wheel, Virtual Scratch Off, Virtual Golf, Slot Machine, Plinko, Dice, Choose One, Virtual Bingo, Memory Match and Custom Instant Win Games.