Promote your real estate company with a Virtual Prize Wheel. When people are looking into buying a home, more then likely they start online. Attract those possible homebuyers to your website by offering a chance to win. Once they are there, they will check out your current listings and maybe spot something they like. It's a win/win situation.  To redeem their prize they will have to come to you. This will give you a chance to talk to possible homebuyers face to face. Another way it could be used is at Open Houses. Possible homebuyers come through to check out the house and before they leave, hand them a card to let them know that they have gained a chance to spin your Virtual Prize Wheel. They'll be coming back to you…
To increase sales, you could use the Virtual Prize Wheel internally. Use it as a Sales Incentive. This will help get your agents to be more productive and essentially increase the sales.
Available Branded Game Marketing Instant Win Games
Virtual Prize Wheel, Virtual Scratch Off, Virtual Golf, Slot Machine, Plinko, Dice, Choose One, Virtual Bingo, Memory Match and Custom Instant Win Games.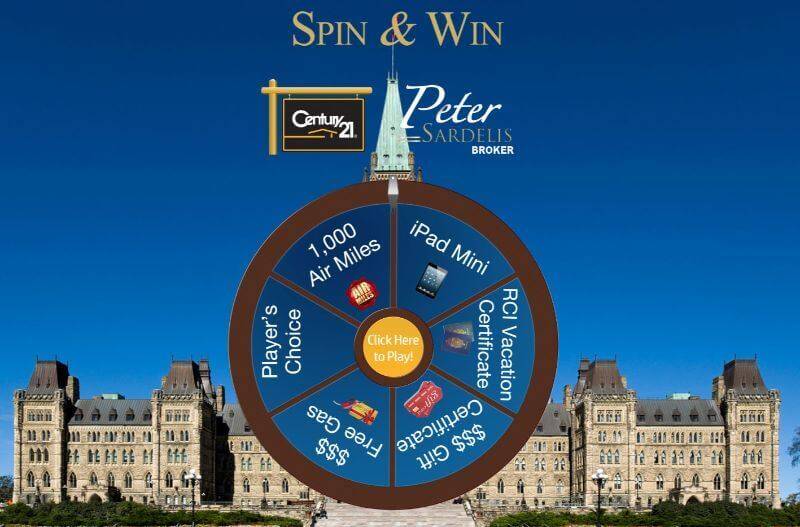 It is ideal to hire a professional drone photographer or videographer to save more good drone footage for your listing. Speaking of budgets, drone photography can be expensive, so it's more suitable for real estate agents with luxury listings aimed at high-end buyers.
Make your contributions visual and text-heavy with links to original sources and explain statistics relevant to buyers and sellers. Buyers are interested in a property when they see how it fits into their lifestyle, so help them visualize the property in your listing. For example, you can create a list of first-time buyers not to buy a property.
This contribution is a chance to eliminate uncertainties and inform your customers about the steps to buy a property. You can also share when it's a good time to buy and encourage your customer to take the next step.
By focusing on the 23 proven methods and ideas for marketing real estate that bring you the proverbial windfall, you will achieve success in online media such as SEO, blogging, social media and video. Ignore any of them and you may find yourself in a sea of competition and unable to attract the right customers.
With nearly half of potential homeowners starting their housing search with their listing, a digital presence has never been more critical. Real estate marketing videos on social media differ from what you see on YouTube or your website. For many real estate agents, including real estate videos into listings means putting together high-quality images into a slide show or recording a walk-through of the listing with a smartphone in hand.
Communicating with estate agents, home buyers and sellers in real time was not possible a decade ago. With live streams, you can perform virtual open house shows in the neighborhood with video hosts like Live Ask Me Anything and more.
According to Statista, real estate websites are visited more than 120 million times a month and Zillow has 36 million monthly unique visitors. As a marketing tool, make sure you list your virtual live tours on your website and on social media.
Including your site in the top 3 listings in the region improves your chances of winning high-quality local leads. A Landing Page for Real Estate is a single page on your website that allows you to talk to a particular segment of your target market. For example, if you target a keyword like "Buy Phoenix Real Estatea," you will earn more lead points from your visitors on a landing page that offers a free guide to buying property in Phoenix than if you refer them to a general home page.
Multiple landing pages can cause up to 120% more lead flow, so it is important to learn how to use different landing pages for real estate. In the current COVID 19 landscape, the use of social media is more important than ever. You can show properties on other social media platforms such as Facebook, Twitter and Tik Tok depending on the target audience you want to target.
A whopping 73 per cent of sellers are more likely to advertise their home through an agent who uses videos to market their home. Properties marketed with high-quality photography sell 32% faster.
Hiring a professional photographer who specialises in real estate to photograph your property can go a long way. With platforms like Snappr and Expertise, you can find talented photographers in your area. Suppose the seller of a property needs some expert advice on how to make property look good in a CGI listing.
Speaking of videos, real estate agents will host zoom webinars on popular educational platforms. Show people examples of your listings, tell visual buyers how to get the most out of your listings, and give tips for real estate presentations. A webinar is not only a tool for creative marketing in real estate, but also a unique opportunity for additional advertising to attract new customers.
After taking the time to hone your flagship brand and figure out how it differs from the competition, you're ready to create content that represents it and step up your lead generation efforts.
In the digital world, simple real estate ads with photos and text descriptions are not enough. You don't have to look at real estate videos because it's your friend. Listings and videos can be as easy as using your mobile device with multiple photos of the property and a video clip.
Make sure you have a social media account on a large network such as Facebook, Twitter, Pinterest or Instagram, especially if you are taking lots of house photos. Chances are that homebuyers are eager to share their best apartment photos with friends and family, making it easy for homebuyers to send emails or share different properties by adding a social-sharing button. Pinterest is a great platform to create a mood and information platform for listings.
There are plenty of great resources that provide detailed details of real estate photography and guides like the Digital Photography School can be helpful if you have a basic experience of photography. It has been two years since I rented and rent properties myself so I have a Google Maps address, use Street View to get a feel for the area, see which shops are within walking distance, look at photos from home and take a virtual tour of the property.
The Matterport 3D camera is one of the most effective tools you can use when marketing any kind of real estate. It sews together a three-dimensional doll's house of the entire property so that the buyer can fly around in virtual reality and depict the room exactly, no matter where he is. This is particularly important for real estate agents and agencies who want to move into a property.
When it comes to luring customers into your listed property, photos and written content are a thing of the past. If there's one trend that will redefine property marketing in 2021, it's the move to video content. Agents who want to be ahead in the competitive landscape should develop a strong video marketing strategy.
People feel a sense of pride and satisfaction when they are featured in a corporate social media feed, because it is good news that affects them. It adds a humane touch to your social media presence, even if you don't have photos of listings or real estate tips and messages. You want the source to continue to send your way to your customers and motivate and reward them.