You can use a virtual prize wheel to get new tenants in or keep the old ones there. The possibilities are endless with this tool! You could offer some prizes that will make any renter happy, like discount on rent and even gift certificates for local restaurants where they enjoy dining out every night after work is done at home. It's up you decide how exactly what type of incentives would be best suited towards your business needs; but one thing's certain: once people see all these awesome things their potential options become limitless.
Promote your apartment complex with a Virtual Prize Wheel. It could be used to get new tenants in or to keep the old ones in. There are many different ways of using the wheel to help your business. New tenants' appreciation, someone signs a lease and they get a chance at the wheel. Winnings could be many of things, such as discount of rent, gift certificates, etc… It could also be an incentive for your tenants to pay their rent on time. If they pay by the 10th, then they get a chance to spin the wheel. If the prizes are intriguing, there is more incentive for the tenants to pay on time.
Available Branded Game Marketing Instant Win Games
Virtual Prize Wheel, Virtual Scratch Off, Virtual Golf, Slot Machine, Plinko, Dice, Choose One, Virtual Bingo, Memory Match and Custom Instant Win Games.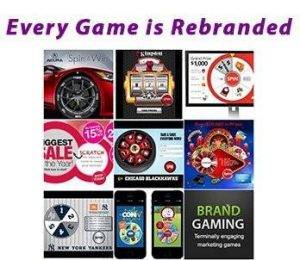 Call now! 1-877-530-4499 for a fast quote and more detailed information.
Why Brand Gaming? We make this easy to do!
We will work directly with you to execute your promotion or application to be certain you are leveraging the full value of our systems. Secondly, we know that one size does not fit all and you don't have the time to master every aspect of our technology. Most importantly Brand Gaming will work with you to build out your promotion. The execution does require good communication.