Virtual Reality Marketing with Games
The event industry is now experiencing great examples of Virtual Reality Marketing using Games for Events & Engagement. VR also gives your participants a chance to become a part of the event's journey and message.
This is an early stage demonstration of a Virtual Reality Prize Wheel. Let's call this V1.1 Virtual Reality known as (VR) is the next big thing in Event Marketing. VR is a computer technology that replicates an environment, real or imagined. Our Virtual Reality Prize Wheel uses Motion Detection so you may spin the wheel on the monitor with your finger motion.
More information is coming soon on Virtual Reality Event Marketing! Check out SURF PARTY IN A BOX!
SURF PARTY IN A BOX – EXPERIENTIAL EVENTS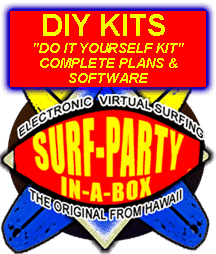 The cool "SurfPartyInaBox" is the proud result of 15 years development – on location in Hawaii where surfing was born. Our team of software and hardware engineers come from backgrounds ranging from ATARI, Sega, Nintendo and Nordic Track – a unique team that created the world's first and only Virtual Surf Simulator system used in trade shows, corporate parties, special events and major promotions around the world. Our team had the vision of creating an interactive experience using a virtual surf simulator more than 20 years ago when people were still sitting on couches playing video games.
The SurfPartyInaBox is a totally portable surfing simulator system that can be taken to any party, event, wedding, birthday party, graduation and set up within minutes indoors and outdoors anytime, anyplace. The experiential video surf machine event system is made for any age from 5-85 – everyone envisions the fantasy of surfing. The total system unfolds to become a colorful, exciting destination – a crowd magnet that is also a unique spectator sport aside from being a great interactive experience.