The Choose One Contest Marketing Game!
This Contest Marketing is also a game that can be creatively modified. It is the element of surprise that people love! This Virtual Choose One game is an automated marketing working nonstop acquiring names and email addresses of consumers that are familiar with your brand, or as an introduction to your brand. Use the Choose One Contest Marketing to drive people to your business with both prizes and coupons. There are many types of creative unique promotions that can be designed.
There are many ways to design this game. We first need to know where the game will reside,  a website, a tablet, or for a big screen.  This is an example of a typical responsive web site style game.  There are many other ways to present the game.  We offer full screen games and tablet specific sized games.  Look through our past Game Design Gallery to see a variety of options.
All Contest Marketing games are custom branded to your business.
How to play this Demo: Tap the panel and enter your name and email address then choose a box. A custom branded email will optionally be sent to the address you provided, with instructions on how to collect your prize. (you set the promotional period and the exclusions). For Mobile click on the phone to the left.
We always brand the Virtual Choose One with a custom background, your logo, change the panels.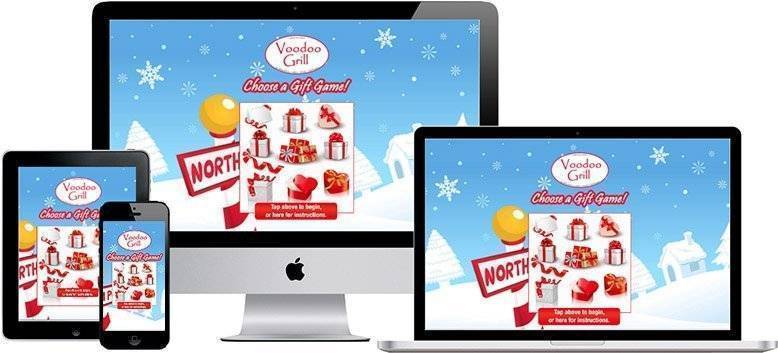 ---
How you can benefit with an Interactive Choose One Contest
An Interactive Virtual Choose One Contest Marketing game. is an incentive promotion that can be a very useful tool for small businesses. The Interactive Choose One works in many ways, including  to drive potential customers to your website by giving them the opportunity to win prizes and coupons. It runs from your website, point of purchase counter, trade show, retail kiosk or website. With the Interactive Virtual Choose One, you set the odds, the quantity and prizes or coupon types. The Choose One works around the clock acquiring names and email addresses of consumers that are familiar with your brand to build your business a large database.
Benefits of the Virtual  Choose One.
The Virtual Choose One. will help both small and big businesses to build a large email database by capturing names and email addresses of players. This will, in turn, lead to new customers being acquired and thus generate new sales.
The incentive of winning a prize will generate traffic to the website and increase brand awareness.
The instant win marketing that comes with the use of the Interactive  Choose One. creates instant gratification for website visitors.
The interaction and sense of fun creates positive Public Relations and brand awareness.
To boost foot traffic, businesses with physical locations can direct winners to collect the prizes from their physical location.
It is an affordable marketing tool that businesses can use.
The interactive prize wheel can also be used to fill in slow days by making the slow days, such as Monday to Thursday the only days when prizes can be redeemed.
It is a unique and creative form of branding which small businesses can enjoy.
It is a great way to promote new products and services because of its great potential to drive traffic to your website.
The Interactive Virtual  Choose One. may also be used for an eCommerce store using coupon codes.
It is also a great way to improve marketing initiatives.
The interactive  Virtual Choose One Marketing game also creates a fun element to any business and promotion.
It is an amazing website lead generator.
Because it is working 24/ to generate leads and massive traffic, the Interactive   Choose One. creates constant marketing opportunities.
It is easy to setup and features a secure administrative set up of prizes, quantities and the outgoing emails.