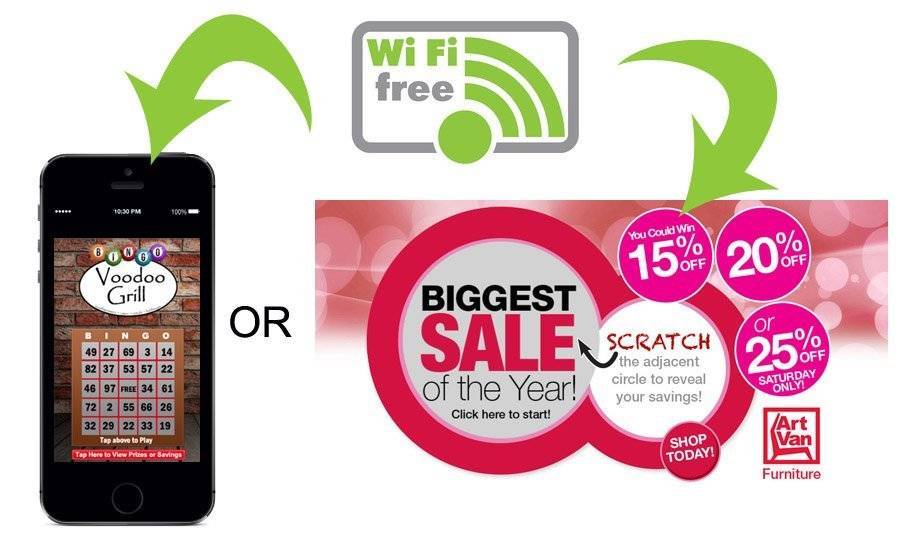 Benefits a Captive Portal
Providing free WIFI to your clients or Guests? Then you can benefit from a Captive Portal.
A Captive Portal is a Web page that the user of a public network is required to view and interact with before access is granted. Brand-Gaming now offers Captive Portals for your small or large business.
Available Instant Win Games for Captive Portal
Prize Wheel, Scratch Off, Virtual Golf, Slot Machine, Match Three, Virtual Plinko, Choose One, Bingo. Click Here for Captive Portal Games
Benefits of using a Captive Portal include:
Marketing & Brand Awareness
A custom landing page will inform the guest or client of your brand. Add games, Coupons, promotions, and company information are presented to the guest when they access your WIFI hotspot. The potential is limitless that captive portals can have in raising your companies brand awareness.
Separating Traffic
Captive Portals allow for the separation of guest internet traffic. Keeping guest out of your network will help secure your vital data.
User Data Collection
A Captive Portal allows for data collection based on user browsing habits, or simply gathering their email address and or name.
Guest Security
One of the easiest ways hackers are stealing data is by posing as a valid wireless network. Once a guest logs into the fake network, a hacker can steal their vital data. This data can include passwords and account information.
So, if your business is a coffee shop, for example, providing free Wi-Fi access for your guests, your network should be appropriately branded for your end-users to identify using a Captive Portal. A Captive Portal can provide a secure access point into your WIFI hotspot. You might have already used a Captive Portal. It's the log-in page you see when you try to access a Wi-Fi network provided in hotels, hospitals, schools, coffee shops, or restaurants.
A fort has walls, and a house has doors with locks, in order to secure access to these structures. The same should be said when it comes to WIFI access to your clients or guests.
Providing free access to the internet from your business is very valuable to your guests or clients. Not branding or requiring them to view content on a Captive Portal can be a wasted opportunity. Whether you are a small or large business, you can benefit from marketing & brand awareness, separating Traffic, user data collection, and security.
Customize your guest access experience, offer coupons for logging in or games with prizes. The possibilities are endless.
Brand-Gaming can provide this service with custom, plugin ready hardware for your business. Simply open the box and plug it in.
Your Captive Portal will be ready to use, branded for your company, and supported by Brand-Gaming.
Brand gaming involves interactive marketing products that compatibly works with web, social, mobile, retail, and a lot more. In terms of small businesses as well as fortune-100 companies, this type of business is actually leveraged by industry leading companies across the globe. In fact, this is an excellent business that takes pride in offering convenient services to its users.
When it comes to options, brand gaming got the needs of clients covered. In fact, product improvements are based on the perception of the users for ultimate performance. The highly advanced options as well as systems enable users to witness the greatness of the site. With the help of professional and highly experienced team, brand gaming has simply made it to the top.
Competitor's products are actually filled with high operational costs, large facilities, and high payroll as well as overpaid CEOs. Hence, it is now important to stay flexible in the competitive market in order to remain on the leading position. Thus, brand gaming can significantly help businesses by 70% upwards so that they can get higher ROI with cost efficient promotions.
The great thing about this online service is that, users get the opportunity to set the prize and odds along with unlimited easy access to self-administered admin center.
Call or email us today to learn more about Brand-Gaming's Captive Portal solution!
Available Instant Win Games
Prize Wheel, Scratch Off, Virtual Golf, Slot Machine, Match Three, Virtual Plinko, Choose One, Bingo